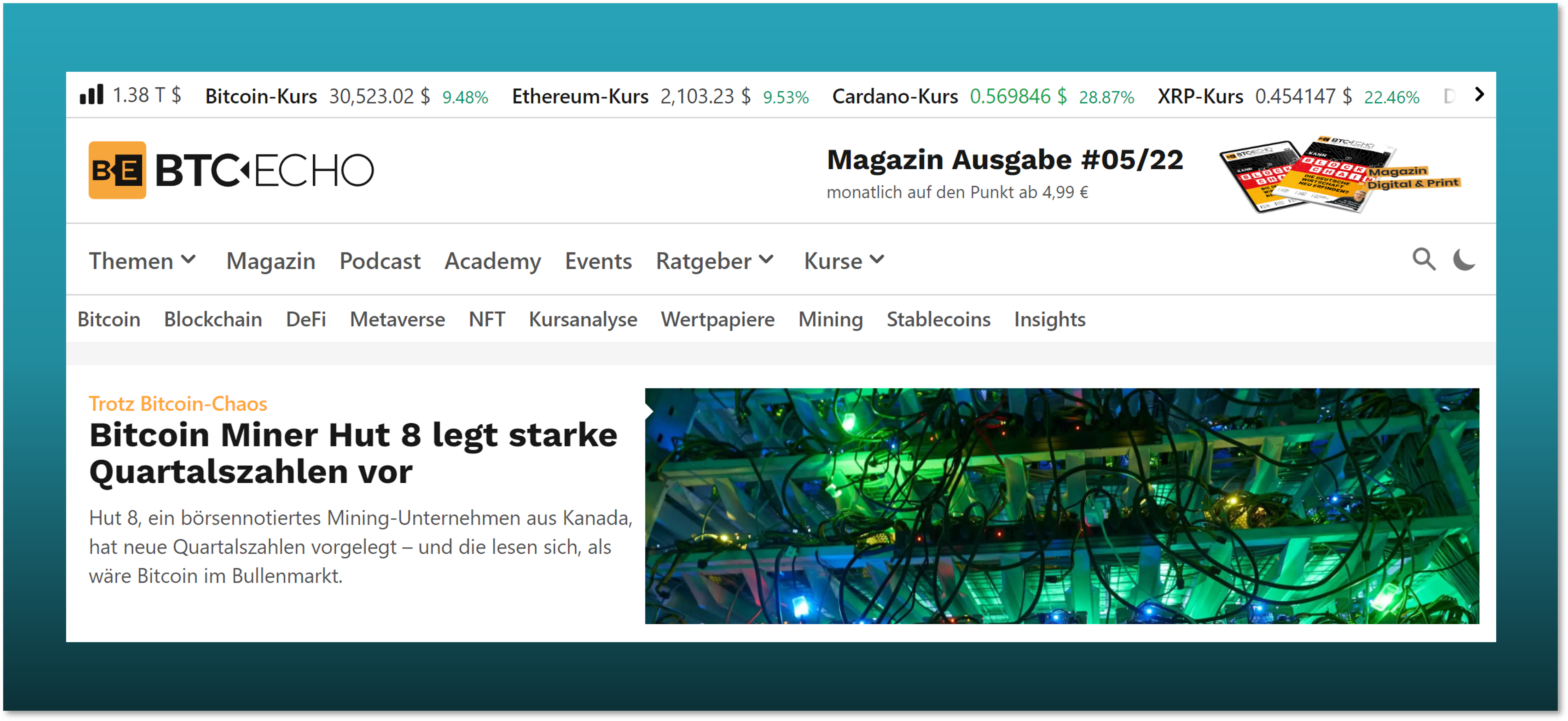 Financial market, monetary policy, investments, transactions and stability. 2022 will be a challenge for financial communication. iq digital expands portfolio with BTC-ECHO.
Düsseldorf, 01.02.2022 - Since January, BTC-ECHO has been marketed in the journalistically high-quality portfolio of iq digital media marketing gmbh and thus perfectly complements the existing finance and business titles.
BTC-ECHO is the leading medium on the topics of Bitcoin, Blockchain and Decentralised Finance and offers up-to-the-minute reporting and analysis on everything that is happening in the Blockchain and Cryptospace. It is a discourse that is more relevant than ever, as blockchain and crypto topics are currently experiencing a strong upswing and cryptocurrencies are also becoming increasingly important as an investment for private investors.
As a digital marketer, iq digital is adapting to this development and recognises the opportunities that the process has not only for the financial world, but also for the entire digitalisation process. The target group of investors is just as diverse as the financial market has become. BTC-ECHO's target group, which tends to be more risk-averse, closes a gap to more conservative investors. Thus, BTC-ECHO fits perfectly into iq digital's portfolio. With the portals Handelsblatt.de, WirtschaftsWoche Online, Arvia.de and Börse am Sonntag, iq digital covers a comprehensive spectrum of financial decision-makers and interested parties in one portfolio and reaches almost 10 million UU in Germany in this area. Iq digital thus offers financial customers a wide range of investment target groups like no other marketer in Germany and a high-quality communication platform for all types of campaigns in the financial sector.
Steffen Bax, Managing Director of iq digital media marketing gmbh, emphasises: "For us at iq digital media, it goes without saying that we offer our clients a comprehensive, editorial view and innovative framework for their communication in the field of finance and digitalisation. With the help of the BTC-Echo portal, we see how fundamentally the financial industry changes in a very short time and how, with the right approach, new portals can grow enormously in reach and relevance. The portal helps to classify the latest trends and developments and is therefore an enormously important addition to the portfolio in journalistic terms. We at iq digital show customers how they can integrate this journalistic added value in B2B and B2C communication."
Mark Preuß, Managing Director of BTC-ECHO, adds with regard to the joint cooperation: "Since our founding in 2014, it has been the goal of BTC-ECHO to make Bitcoin and Blockchain accessible to as many people as possible. The fact that BTC-ECHO is being marketed by iq digital shows us that the Bitcoin & Blockchain scene no longer has a niche existence, but has made the leap into the traditional business & financial world. An important milestone on the way to the global transformation of the financial sector has thus been reached, which makes me all the more excited about the collaboration."
iq digital media marketing gmbh
As a joint venture of FAZ Verlag, Handelsblatt Media Group, Süddeutsche Zeitung Verlag and ZEIT Verlag, iq digital stands for high coverage in the areas of news and business/finance as well as for special interest offers to address pointed target groups. The portfolio includes high-calibre digital offerings in the areas of general news, business & finance, specialist media and millennials: websites such as Der Tagesspiegel, FAZ.NET, Handelsblatt Online, Süddeutsche Zeitung, WirtschaftsWoche Online and ZEIT ONLINE provide decision-makers with up-to-date information on all relevant topics on a daily basis. The portfolio also includes ada, ARIVA.DE, Edison.media, jetzt.de, Spektrum.de, SZ-Magazin.de, ZEIT-Magazin.de and the B2B network fachmedien and mittelstand digital.

With a total digital reach of 35.98 million digital unique users, iq digital is one of the leading marketers for digital quality media and media brands.
Source: agof daily digital facts, Ø day (of the last 3 months (September - November 2021), population 16+, 01.02.2022.

Contact iq digital:
Commercial Marketing Management
Email: cm@iqdigital.de
Phone: +49 211 887 1311
Press: iqdigital.com/press
LinkedIn: linkedin.com/company/iq-digital-media-marketing
Xing: xing.com/pages/iqdigitalmediamarketinggmbh/news