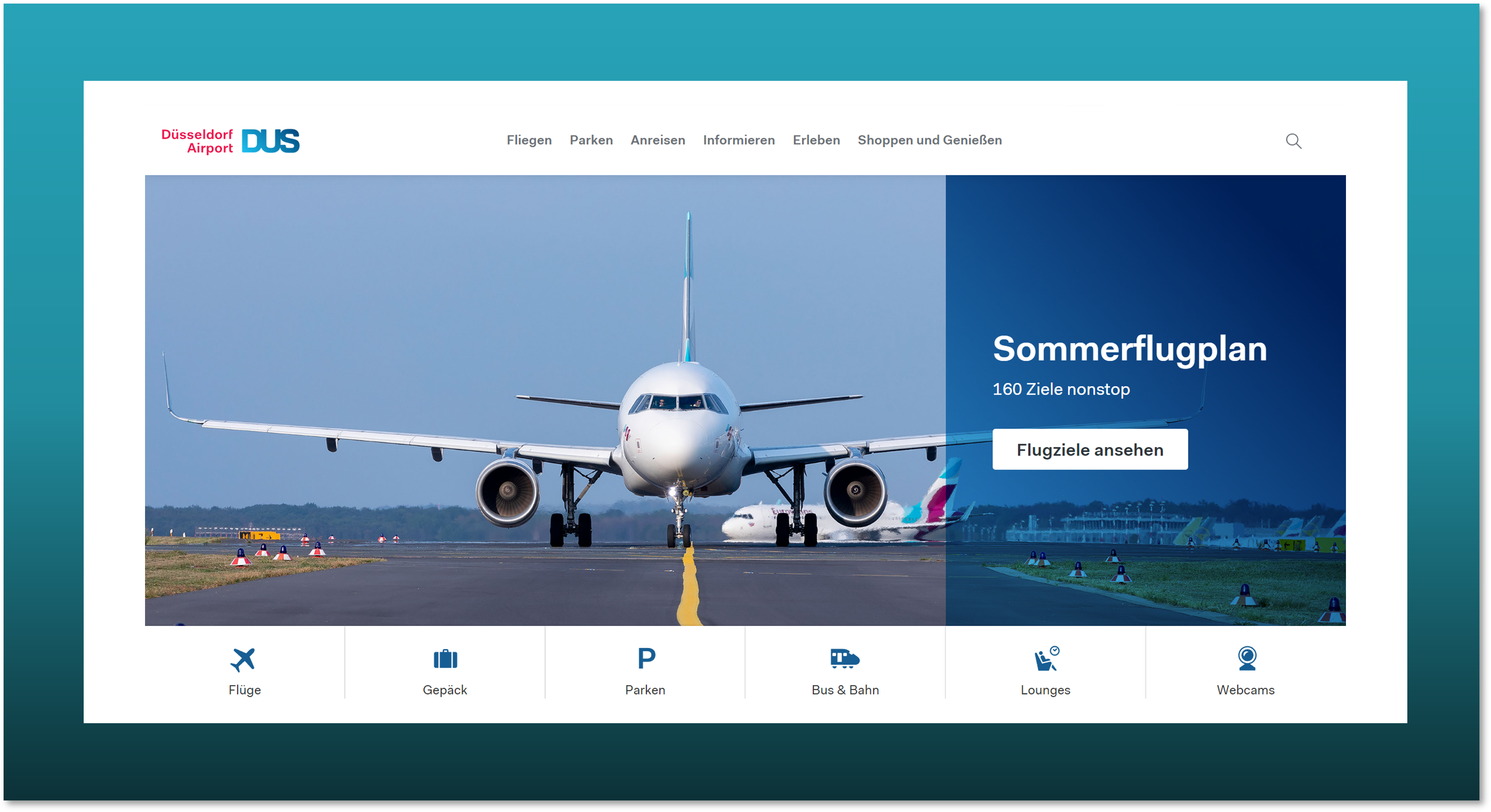 Welcome aboard, Düsseldorf Airport
iq digital takes over marketing of online advertising on Düsseldorf Airport's website
Düsseldorf, 03.02.2022 - Welcome aboard Düsseldorf Airport is the future motto for iq digital. As one of the leading marketers for digital quality media and media brands in Germany, the Düsseldorf-based company will take over the digital marketing of all advertising spaces on dus.com, the website of the largest airport in North Rhine-Westphalia, from April. In addition to the worldwide and exclusive marketing of all available standard advertising spaces, the partners are also focusing on the joint development of innovative advertising concepts and special advertising formats.
"We are looking forward to the cooperation with iq digital and are sure that we have gained a strong partner who will market our digital advertising spaces in the best possible way. Our highly frequented website offers an ideal opportunity to reach high-quality target groups," emphasises Bettina Spönemann, Head of Media Management at Düsseldorf Airport.
"With Düsseldorf Airport, our portfolio is perfectly complemented and we offer a communication stage for a broad target group approach: from B2C target groups, which are characterised by a high affinity to the topics of tourism and lifestyle, to the B2B target group, which we accompany in the direct business environment. We already reach both target groups in a private and professional context on the portals Handelsblatt, FAZ.net, SZ.de, ZEIT Online and WirtschaftsWoche Online, among others. Supplemented by our high-quality targeting segments, effective target group-specific campaigns are possible," adds Steffen Bax, Managing Director at iq digital media marketing gmbh.
iq digital media marketing gmbh
As a joint venture of FAZ Verlag, Handelsblatt Media Group, Süddeutsche Zeitung Verlag and ZEIT Verlag, iq digital stands for high coverage in the areas of news and business/finance as well as for special interest offers to address pointed target groups. The portfolio includes high-calibre digital offerings in the areas of general news, business & finance, specialist media and millennials: websites such as Der Tagesspiegel, FAZ.NET, Handelsblatt Online, Süddeutsche Zeitung, WirtschaftsWoche Online and ZEIT ONLINE provide decision-makers with up-to-date information on all relevant topics on a daily basis. The portfolio also includes ada, ARIVA.DE, Edison.media, jetzt.de, Spektrum.de, SZMagazin. de, ZEIT-Magazin.de and the B2B network fachmedien and mittelstand digital.

With a total digital reach of 35.98 million digital unique users, iq digital is one of the leading marketers for digital quality media and media brands.
Source: agof daily digital facts, Ø day (of the last 3 months (September - November 2021), population 16+, 01.02.2022.

Contact iq digital:
Commercial Marketing Management
Email: cm@iqdigital.de
Phone: +49 211 887 1311

Press: iqdigital.com/press
LinkedIn: linkedin.com/company/iq-digital-media-marketing
Xing: xing.com/pages/iqdigitalmediamarketinggmbh/news